How HipChip Works
A detailed look at how easy and awesome group gifting with HipChip truly is

1
Setup the gift
Simply choose a recipient type, select how many recipients you'd like to collect for and enter their names. You can then assign up to 5 gift cards to each recipient. You can always add, remove, or change the gift cards and recipient information later.

2
Enter your details
You then give your group a title, select a delivery date (cutoff date) and choose a suggested contribution amount (which can be set to "no suggestion"). People can always chip in as much or as little as they'd like regardless of the suggestion. This way you can feel confident that you're inviting people to a 100% "no pressure" gift pool.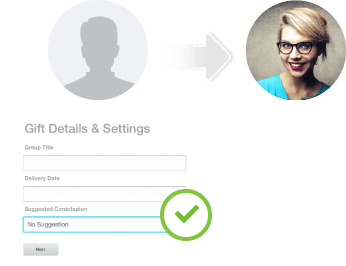 3
Create your group
Once you've setup your gift, you're ready to create your group. All you have to do is enter the names and email addresses of the people you'd like to invite. You can enter people's email addresses by pasting many of them in together, typing each one in manually, or importing your contact list for easy point and click selection. We never spam anyone and we only store the names and email addresses you select. You can always add or remove people from your group later.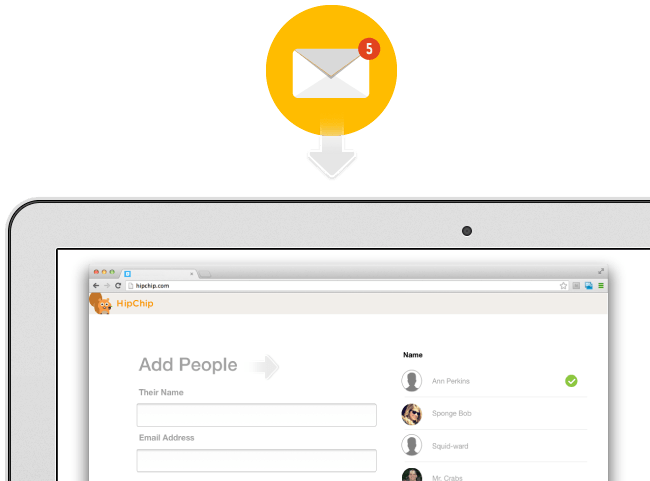 4
Personalize the invitation email
We provide an awesome email template that you can edit or send as is. After you complete your gift, we send the invitation to everyone in your group and track who has opened the email. This way it's easy for you to see who's in the know.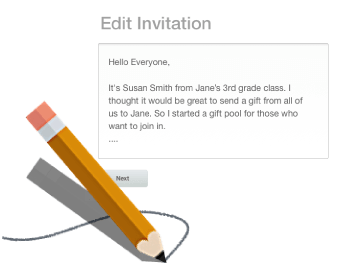 5
Chip in
As the gift organizer, you can chip in any amount you'd like. You can even start the gift and invite your group without chipping in - you can always chip in later. HipChip also lets you cancel your gift at anytime so chipping in is 100% risk free.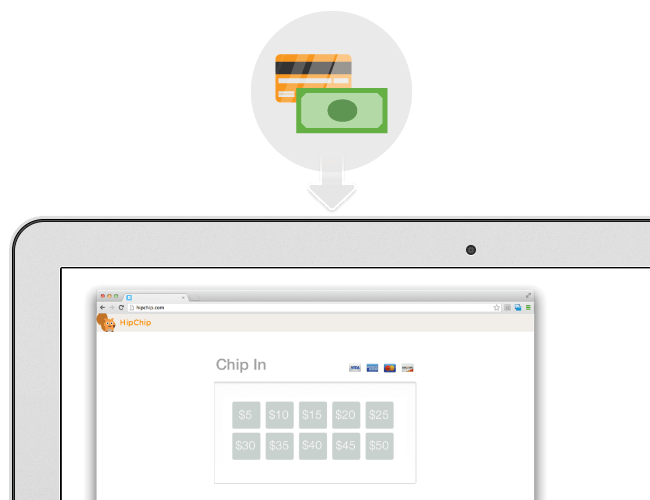 6
Launch your gift
Whenever you're ready, you can launch your gift. We automatically invite your entire group and provide them with a link where they can chip in. Once your gift is live, you can track who's chipped in and who's seen the invitation email.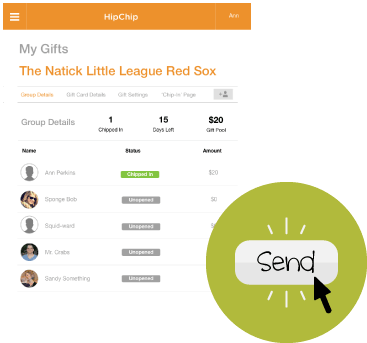 7
Your group chips in
Everyone in your group can chip in as much or as little as they like. Each time someone chips in, we notify the gift organizer of the good news. Everyone's name and email are kept private and no one but the gift organizer can see how much was contributed or who's in the group.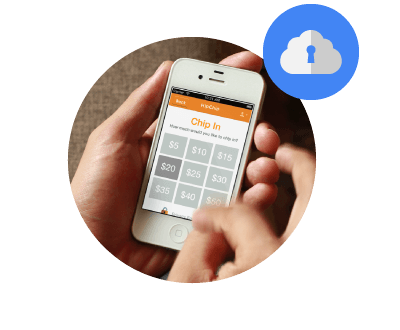 8
We track everything and remind the latecomers
We track all the contributions and automatically update each person's status in the gift organizer's admin panel. We also send a few gentle email reminders to everyone in the group who has not yet chipped in.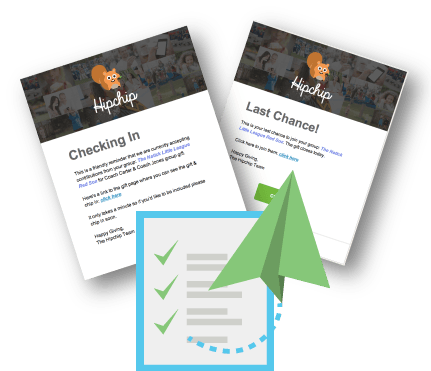 9
Your delivery date arrives
We send the gift organizer an email on the delivery date to remind them that the gift pool is ready. You can add or delete gift cards from the order and adjust the dollar amounts on each card until everything looks perfect. All of our gift cards are flexible so you can adjust any of them in $5 increments until they match the size of your gift pool. Once your order matches your gift pool, you can place the final order and lock in the values on each gift card.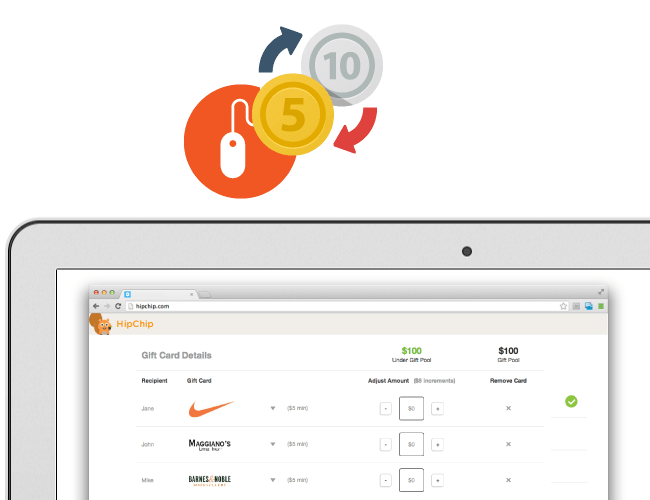 10
You place the final order
As soon as you're happy with the amount on each gift card, you can place the final order. This locks in the amount on each gift card and they instantly become available to print or send via email. You can print and email any HipChip gift card as many times as you'd like. We notify everyone in your group of the good news but we never mention any details about the gift value or who chipped in.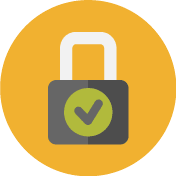 11
Deliver your gift instantly or in person
The gift organizer can print & hand deliver the gift cards or send them directly to the recipient(s) via email. You can also do any combination of the above and you're free to print and email any HipChip gift card as many times as you need - you can always manage each card individually.